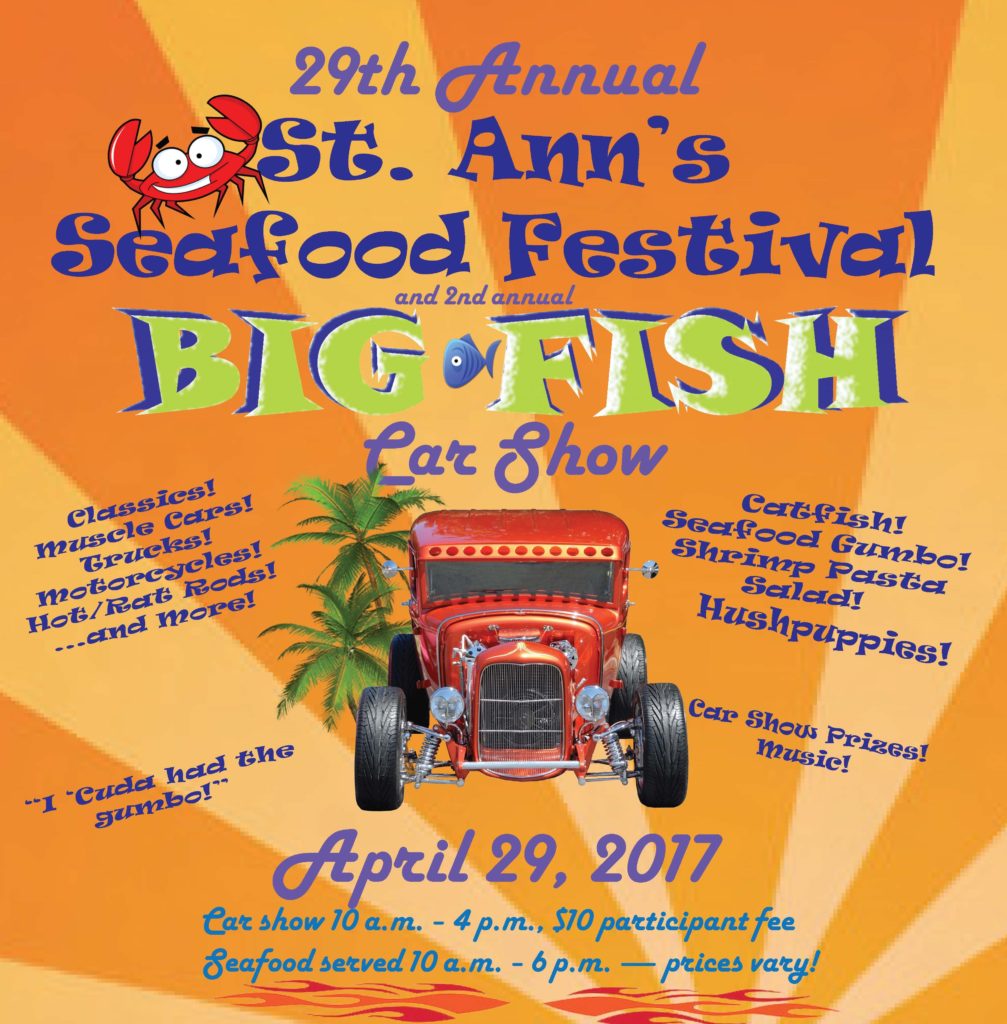 Saint Ann Catholic School welcomes the summer season with seafood, hot rods and sizzling music!  The 29th Annual Seafood Festival is Sunday, April 29th.  The fun starts with a Big Fish Car Show and fun for the whole family.  Follow your nose to some of the best seafood you will ever eat!  New this year is a DRIVE THROUGH WINDOW FOR PRE-ORDERS!  Come and enjoin the delicious food, check out the stunning show cars and support Saint Ann Catholic School!
Where?  Annunciation of the Lord Catholic Church/St. Ann Catholic School ~ 3910 Spring Avenue ~ Decatur, AL 35603
When?  Saturday, April 29, 2017
What Time?  Car Show 10am – 4pm, Festival 10am – 6pm
What's on the Menu?  Your choices include Seafood Gumbo, Red Beans & Rice, Boiled Shrimp, Fried Fish, Spiced Corn, Low Country Boil, Home-baked Desserts and more!
Can I Eat There?  While the seafood is available in 'to go' containers, current plans are to offer shaded outdoor seating areas for those who want to dine in, taking advantage of the live music from area bands and allowing time to check out the adjacent Big Fish car show.
Can I Pre-Order Seafood Gumbo?  Yes! Order before April 25th!!  Drive through pickup window will be available this year so you can avoid the lines!  Print this Pre-Sale Order Form and mail or drop off your order with payment today!
What's the Big Fish Car Show? An awesome showing of some of the BEST cars around!
Categories include:
Muscle Cars 1962-1979

Muscle Cars 1980-present

Motorcycles / Trikes

Trucks / SUVs / Jeeps

Rat Rods / Hot Rods / Kit Cars

Imports

Classic Cars

Judge's Favorite
How do I enter a car?  Print this SIGNUP FORM.  Registration is $10 per vehicle and limited to 125 entries. Checks payable to: St. Ann's Educational Foundation. Checks may be mailed to: 3910 Spring Ave SW, Decatur, AL 35603. Please include this registration form with your check. You can sign up the day of event as well!
Category winners will be determined by popular vote with more details to follow. Trophies for each category will be given and prizes will be awarded to participants on a drawing basis independent of their vehicle category or winner status. Additionally, vendors will support with displays located throughout the show area.
*Show parking opens at 9 a.m. and spaces will be occupied on a first available basis.
*Food/refreshments will be available for purchase.
*Show begins at 10 a.m. and ends at 4 p.m. at St. Ann School/Annunciation of the Lord Catholic Church, Decatur, AL
*No dogs or alcohol will be allowed at this event.
*No refunds will be available in the event of inclement weather or non-participation.
*All proceeds benefit St. Ann School.*Registration fee(s) is/are not tax-deductible.
This year's Seafood Festival and Big Fish car show promise to be a lot of fun! The Big Fish car show will continue rain or shine! Please note that the participation fee is non-refundable in the event that you're unable to participate. All proceeds go to St. Ann School to support inspiring and quality education.
Thank you for your interest in the 29th St. Ann's Seafood Festival and Big Fish Car Show!!