Founded in 1955, Saint Ann Catholic School was established to provide a quality Catholic education for the children of families in Morgan County Alabama. Surrounded by city streets, the School and Parish relocated in 2003, from Johnston Street to our new state of the art facility located at 3910 Spring Avenue, Decatur, Alabama alongside Annunciation of the Lord Parish.
Situated on 34 spacious acres, this private school has been built with growth in mind and ample space to expand upon its mission. The serene setting and convenience of the centralized location appeals to families within the city of Decatur as well as all of Morgan County, Alabama area and offers parents a real choice in quality education. Together, Saint Ann works alongside our parents and students to build a foundation for academic excellence in a Catholic faith-filled loving environment.
Your child's protection and security at Saint Ann Catholic School are of the utmost importance and security provisions are in place and strictly enforced. At the same time, our open door policy allows parents, grandparents, volunteers, and others the opportunity to EXPERIENCE the difference at Saint Ann Catholic School.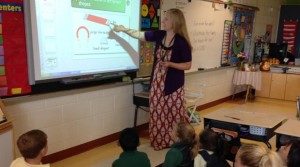 Our classrooms are bright, spacious and designed to inspire a creative learning environment in every room from the Pre-K classes throughout the 8th grade middle school. Smart Board technology can be found in all classrooms and our computer lab allows student the ability to enhance their technical skills while learning to work on projects independently or as a team.
Regardless what grade your student is in, Saint Ann's student to teacher ratios remain substantially lower than traditional classrooms and allow students the one on one attention they deserve.
Saint Ann is blessed to have a great group of volunteers that you can see anytime you visit our campus! From tutoring to event planning our volunteers are here anytime we need a helping hand!
Our school grounds are well maintained and offer an inspiring space for your children to grow and learn. We have an impressive outdoor activity center, a nice library, extra-curricular activities,  and large areas of worship!
In summary, Saint Ann Catholic School of Decatur was designed to INSPIRE every student, parent, teacher, and faculty members alike.